Re: Nature 2019
Four person exhibition
Oct. 5-28
Wilderstein Estate Sculpture Biennial 2019
Opening June 1, 5-7 PM
Twenty five sculptures featured in many media.
Rhinebeck, NY
Open daily 9-4 PM thru Oct. 31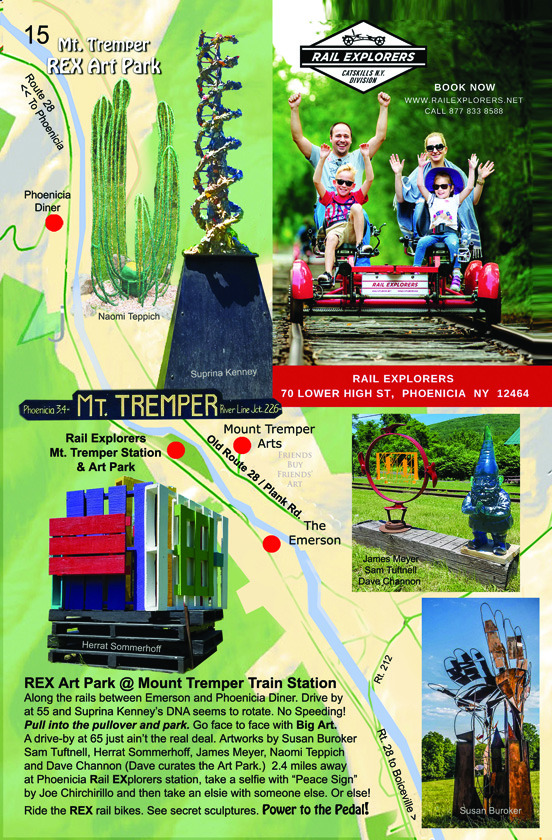 MT Tremper REX Art Park 2019-2020
Left Bank Fifteen 6/8 - 7/13 2019
Group show in Liberty, NY
Sculptures at Left Bank Fifteen
Conch - Glazed ceramic on green slate
Shell Series - mixed firings..salt, electric, reduction

Installation at the indoor gallery

Wall at Ten Pages exhibit Oct. 2018 - Jan. 5, 2019
My series of coral wall works and three dimensional works at the Bodhi Tree (see previous post for details) also Elizabeth Ennis' films and mixed media collages.
Ten Pages
Opening October 13, 2018
6-9 PM
Streams - Art In Motion DVAA Regrant
Opening Aug. 4, 2018
Extended thru Dec. 31, 2018
© Naomi Teppich
Left Bank gallery
Annex space
extended through October, 2018
Cactus Cocoon
2018 Beacon 3D
Ferro-cement and cement paint
Located on Cliff and Dewindt Streets
Go to beacon3d.org (details)
7.5 L. 5 Deep. 10 H feet
May 15- Oct 31 dawn to dusk
© Naomi Teppich
Cactus Palm (second from top left)
Please join us on April 28th 2018, International Sculpture Day, to celebrate and to meet the artists whose sculptures were installed
in Leonia in 2017.
There will be a bus tour to visit the
sculptures around town and to hear
the artists speak about their work.
Saturday, April 28 from 2-4pm

 
Ask the Old Trees
*Closing Party on Friday, March 23, 4-6PM
River Family Wellness is hosting a multi-media art exhibition of three artists inspired by bark imagery...Marjorie Morrow paintings, Gail Tuchman photographs, and Naomi Teppich sculpture. The show will be open Jan. 5- March 20, 2018, 9am-5pm.
Opening Nite - Ask the Old Trees
Three person show in Callicoon, NY. Jan. 5 - March 20, 2018
Cactus Palm 2015
Ferro-cement and stones
10H Feet. 50W Inches
Placed in the Leonia Sculpture Park, Leonia, NJ in the fall of 2017 among numerous sculptures throughout the town.
© Naomi Teppich
Mushroom Y summer 2017
Wood Branch and Stoneware
67L. 13W. 6D Inches
Displayed at Sunny's Callicoon Pop,
Callicoon, NY
In the window of Sunny's Callicoon Pop
Hermaphroditic Plant
Colorado white Marble
18L. 10W. 9H Inches
© Naomi Teppich
Snowflake Cactus 2017 in Beacon, NY
Ferro-cement
8 feet 1 inch High. 48 W Inches
see Beacon3D.org for more details
Located at the corners of Cliff and
DeWindt streets
May 15-Spring 2018
© Naomi Teppich
 
Zebra Cactus 2013
Ferro-cement
8.8 feet High. 55 W Inches
Shown at Wilderstein Historic Site 2017
Also shown at Beacon 3D 2015
4th Biennial Outdoor Sculpture Show
Opening June 3, 5-7 PM
Open daily 9-4 thru Oct. 31, 2017
Also shown at Beacon 3D 2014
© Naomi Teppich
Wilderstein Historic Site Biennial
My sculpture "Zebra Cactus" will be among 18 sculptures featured from June 3 until Oct. 31, 2017.
Opening Sat June 3, 5-7 pm
330 Morton Road, Rhinebeck, NY
Open daily 9-4
845-876-4818
River Mussel
2015
Glazed ceramic wall sculpture
18.5L. 12W. 5Deep Inches
© Naomi Teppich
On view at Small Works/Baruch College/2017
March 2-28
Small Works/Baruch college/2017
Curated by Richard Timperio and Elizabeth Avedon.
Opening March 2 6-8 pm thru March 28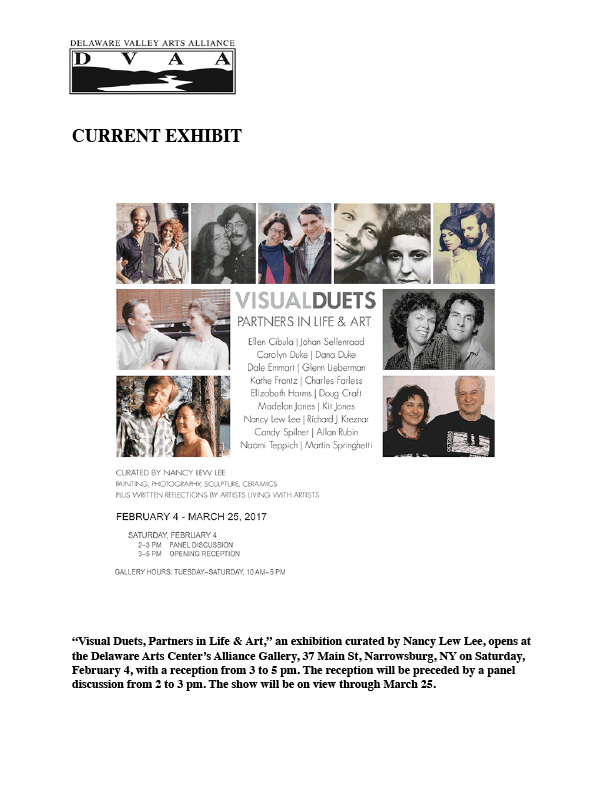 Ocotillo Patch, Bartow-Pell Gardens, Bronx, NY
Sept. 2 - Oct. 30, 2016
Ferro-cement and stones
Tallest piece 9 H feet, dimensions of total sculpture is variable
Ocotillo Patch is a group of three part outdoor sculpture based on the ocotillo plant which is native to the desert southwest. It is entirely out of climatic context in the northeast. We hope viewers sense this dichotomy and it provokes thinking about climate change and how it could affect plant life.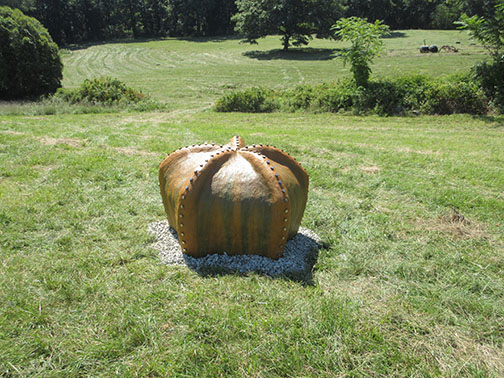 "Urchin Cactus" at Saunders' Farm, Garrison NY
Sept. 3 - Oct. 29, 2016
Ferro-cement, Stainless steel tiles and gravel
36H. 65L. 65WInches
A hybrid cactus and sea urchin sculpture referring to areas that are affected by global warming including deserts and oceans.
 
Urchin Cactus, Saunders' Farm, Garrison, NY
2016
Collaborative concepts at Saunders' Farm is located at: 853 at Old Albany Post Road, Garrison, NY
Elizabeth Ennis & naomi Teppich, curators of Bare Bones
Ceramic and slate engravings by Naomi Teppich
thru June 4 - 26, 2016
Bare Bones
Opening Friday,
June 3, 2016
5-8 PM
Desert Agave for Beacon 3D
2016
Theo Ganz Studio, 149 Main Street Beacon
Ferro-cement, gravel
8H Feet, 40 Diameter Inches
©Naomi Teppich
Based on the Agave plant, native to the southwest, this ferro-cement sculpture reminds the viewer that climate change can affect plant life.
Gallery EVA "Primavera" April 2016
New gallery opened in Callicoon, NY April 2, featuring a group show of seven artists. Gallery is on 35 Lower Main Street and is open Friday-Monday, 12-6 PM thru April 30.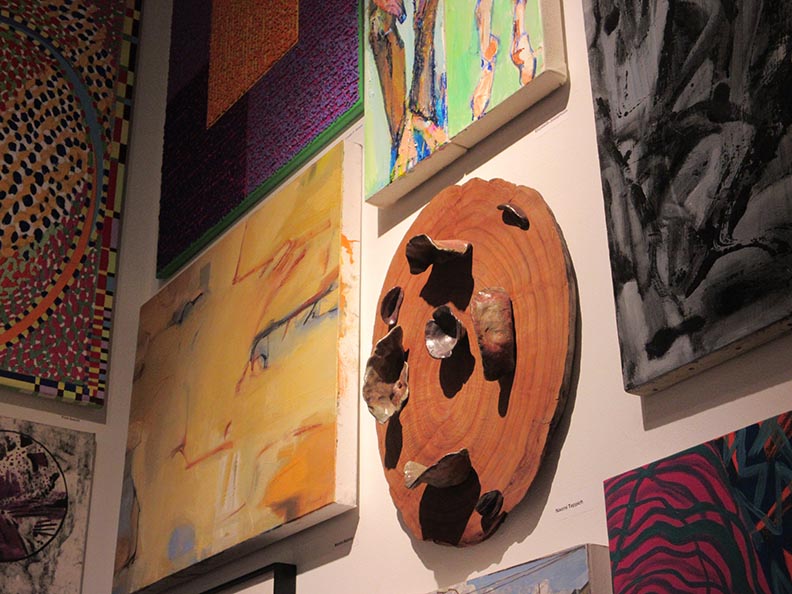 "Ovoid with Lichens" at Sideshow Nation IV thru the rabbit hole, 319 Bedford Ave, Williamsburg, NY, thru April 10 2016.
Ovoid with Lichens
Anagama Fired Ceramic on Hardwood slab
19L. 16.5W. 4 Deep Inches
"Cactus Palm" at the Catskill Interpretive Center
2016-2017
Located on Hwy 28, Mt. Tremper exit Shandaken , NY.
The sculpture is one of ten works displayed opening July 1, 2015 thru June 2017.
This sculpture is 10 feet High, 50 inches wide and deep and is made of ferro-cement and stones.
Desert Flame & Naomi for Beacon 3D
Displayed in Beacon, NY in 2014 from May 14-Oct. 15
Left Wall Cafe Devine Installation
Shroom Flowers Cafe Devine back wall installation
Earth Fusion solo exhibition at the Cafe Devine, Callicoon, NY
Naomi Teppich, Marjorie Morrow, and Nancy Lew Lee at the Rver & Biota opening.
River and Biota Opening ..Oct. 11, 2014
Curated by myself with Marjorie Morrow as the creative resource, this exhibition brings awareness to the vulnerabilities of our countries rivers. Including eighteen artists and housed at the Catskill Art Society in Livingston Manor, NY this show will travel to Penn State University in Reading, PA in September 2015.